NEWS
22 Nov 19
Tess Howard - My Journey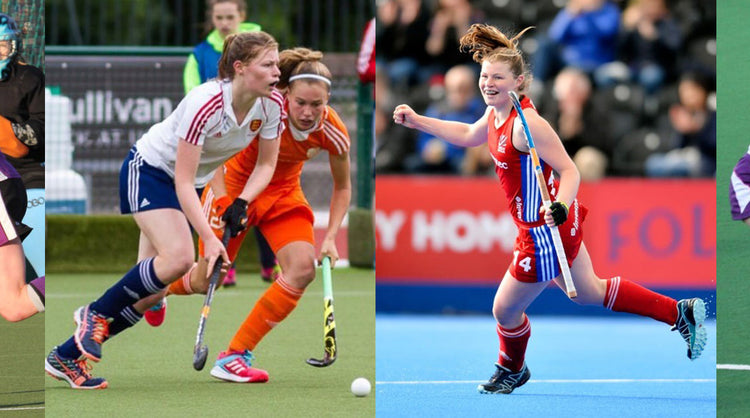 On-paper-off-paper and believing in infinite possibility:
My journey from the EDP to Olympic Qualification.
On-paper it's exactly one year since my debut at the Champion's Trophy tournament in China to helping Great Britain women secure Olympic Qualification in November 2019. On-paper it's the EDP to Senior trials to debuts to the FIH Pro League to the Euros to a broken hand to Olympic Qualification.
But at 20 years old, I believe it's the 'off-paper' journey which has transformed my life. I feel very fortunate to have played my 30th international senior cap at Lee Valley against Chile and scored my sixth goal, but I hope this is just the start of the journey.
Truthfully, I'm driven to play because I love the sport and relish the team camaraderie. That has always been in the forefront of my mind during these moments. For the love of the game and the results take care of themselves.
Looking ahead, I hope to help defend our Olympic title next year alongside my teammates at Tokyo. But I believe my greatest sporting aspiration is to achieve infinite possibility, for I don't know what lies ahead. Simply my dream is to play a part in creating history alongside my teammates in the GB and England teams for the next ten or so years, but what that looks like has no limits.
The GB Elite Development Programme (EDP) was a vital part of my journey transitioning into the senior squad. My experience in the EDP helped me prepare for the professionalism of the senior programme. It is led by world class coaches and staff and sets extremely high standards of training in intensity, effort, attitude and performance. This really prepared me well for the senior culture of hard work on and off pitch, for how to communicate effectively with teammates and most importantly in having confidence to be bold, make mistakes and learn.
In my experience of the EDP we were fortunate to have Paul Revington (Revs) as head coach who set our standards as 'world-class'. But, for me at the start of the EDP I was there to enjoy it and learn – I couldn't see myself as a 'senior player'.
During our Induction camp in September 2017, Revs explained the purpose of the EDP to produce players ready for the senior environment: to "create medal-winning Olympians of the future", but this brushed over me.
However, that all changed for me when I went to watch the London Women's World Cup in July 2018 after I had played in an EDP six-nations tournament. I entered the stadium and was stunned by the magnitude of the event for hockey. As I sat watching England play Holland in the quarter final, I felt an energy inside me that told me: "this is what I want to do". There was a switch inside of me and I felt I had to at least try.
Then in the exact same room at the Induction camp a year on in September 2018, Revs again described the purpose of the EDP to "create medal-winning Olympians of the future" and this time it resonated clearly with me: work hard and there is infinite possibility.
It was in October 2018 when I had my first full week of trials, and I was stunned when three weeks later I was offered a full-time place and selected for the Champion's Trophy. Somehow it felt natural to be there, and I relished the training and getting to know my teammates, knowing you have one common purpose. I am very grateful to my teammates who helped me find my feet whilst I was trekking from Durham to Bisham.  
Joining the senior squad was about joining the GB values. Our mantra "be the difference, create history, inspire the future" has inspired me for the last 6 years, so to belong and identify within it certainly acts as one motivational energy. Belonging to such a powerful squad with the legacy and the future we can create continues to seriously excited me.
I distinctively remember my Welcome Ceremony where the squad and staff gather to welcome a new player into the squad. I remember David Ralph's advice, now Assistant Head Coach, to "stay true to who you are" strongly resonated with me and still does.
There have been a lot of changes to life since stepping onto that plane to China a year ago and I probably glaze over the challenges I experienced because they are overshadowed by my enjoyment of the opportunity. I am blessed to have an incredibly supportive network of family, friends and mentors to keep me grounded and fortunate to have support from Grays Hockey. I look back at the past year and specifically the last couple of months and I feel the best advice I could give to anyone joining the programme or a new place is to be yourself. To play senior hockey you have to be brave, work harder than you think, and set no boundaries on yourself.
My secondary school, The Perse, and my first club Cambridge City, helped me develop my character and instil values I still find core: 'it's cool to be keen' and 'just go for it'. These translated to the unique supportive environment of Durham University and DUHC. Through understanding the professionalism of sport and with the support of the club coaches, specifically Gareth Weaver-Tyler, and my friends, I felt I really grew up on and off the pitch there. I am grateful for that year in Durham which has undoubtedly helped guide me to where I am now.
Since relocating down south to pursue GB Hockey, the hardest part has been settling here and missing the 'Durham life' especially my friends up there. With the commitments of the GB set up, it was very difficult to travel five hours to play club hockey for Durham University.
This season, with the support of Team Durham, I made the decision to transfer clubs to East Grinstead as we agreed it is what is best leading into the Tokyo year. The draw of EG was simply the character of the club and its members; it brilliantly balances being world-class and having the social family-friendly feel. Playing in the Premier League for the first time is a huge bonus too, as well as joining new and old friends at the club which makes playing at this level even more enjoyable.
Looking ahead, I know there will be new challenges, but I appreciate they come with elite sport. I experienced this in August when I broke my hand playing in the Semi Final of the Europeans. I needed surgery on my fifth metacarpal, was put in a cast and wasn't able to fight with my teammates for the Bronze medal. Yet, looking back I know it was just a 'page' in a chapter of the bigger journey.
The GB programme has been a rollercoaster navigating the Pro League and Europeans with a new head coach and new system, but I think it is more important to focus on where we are now as a squad. We had to go through a period of growth and transition, and we are stronger because of it. The team is gaining rhythm and momentum and I have no doubt we will use this year to be our best for Tokyo.
The legacy of the squad, led by the Olympic Bronze in London and Gold in Rio, is incredibly powerful. This is the pinnacle of the sport. My first proper understanding of the Olympics was London 2012 when I was thirteen. I was fortunate to attend quite a few different events and I kept a very detailed notebook of the experience.
I remember arriving at the London Olympic Park and going on a quest to find the Olympic Rings. Now I try to look them in the eye and say, 'we're coming for you, we're going for Gold'.