THE GAME
10 Jun 20
Bjorn Kellerman Q&A: The motivation is the Olympic Games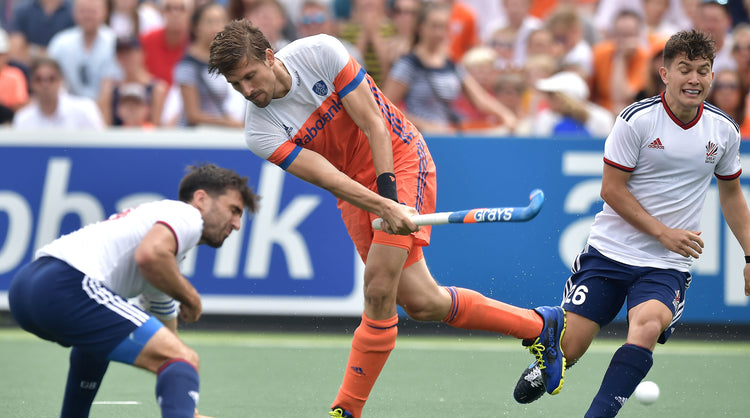 We caught up with Netherlands and Grays star Bjorn Kellerman to talk lockdown and his return to training.
How has it been being able to go back to full training with your teammates?
Awesome! After 2 months of not being allowed to play hockey it's nice to see my teammates again. It's weird to be busy with each other and then not at all for a couple months. I have actually never experienced this before. In addition, everyone trained individually in their own city, but with the same program. So there were all kinds of things that are different and that took a lot of getting used to. That's why I'm glad that we can train again. 
Did you find it difficult having to train by yourself – what sort of things did you get up to?
In the beginning I didn't find it difficult to train for myself, but in the end I found it difficult. I'm on a team sport to achieve great results together, and when you suddenly have to do everything on your own is boring. In the end the motivation was there because you know you are training for the Olympic Games 2021. 
The Dutch team gave us a running program as well as a power program. We did this 3/4 times a week to stay physically fit. We also had several Zoom sessions to keep in touch with all the players. This is of course a completely different experience but it was nice that we did this. 
Which of your teammates did you miss the most?
Within the Dutch team I deal a lot with Mirco Pruyser and Glenn Schuurman. I haven't been able to see them for 2 months but fortunately we've had a lot of contact through Whatsapp and FaceTime. 
 Now you are back, what are your goals and what are you most looking forward to?
Yes we are finally training in full again and looking forward to the start of the Dutch hockey competition and maybe even the relocation of the EHL (Euro Hockey League). But I think the Olympic Games in 2021 is the tournament I am looking forward to most. The rescheduling of this tournament builds the excitement and I am really looking forward to playing there. Hopefully they will soon find a vaccine for the virus so everyone can act healthy and well in Tokyo.
What advice would you have to aspiring hockey players out there who aren't back to training yet?
I know that a lot of countries have not yet gotten exemption to play hockey. What I really liked is that I look back at old videos of beautiful hockey moments, you relive the moments that played then. Besides that what's fun to do is practicing different kinds of techniques in your living room or backyard. You can use this later on during a game or training. 
Did being in lockdown give you a new sense of perspective? Did it make you treasure hockey even more than before?
The lockdown has given me mental rest to think about new hockey techniques or to fine-tune my existing technique. I practiced a e to get more control over the ball. Besides that I believe that by improving your own footwork your basic technique can grow enormously.  
Looking back has also given me new insights into moments with the ball and without the ball. For example, running lines to get free, shots at goal, ball assumptions but also defensive moments. How do you attack someone and when do you attack them!