THE GAME
04 Jun 21
Maddie Hinch - My Journey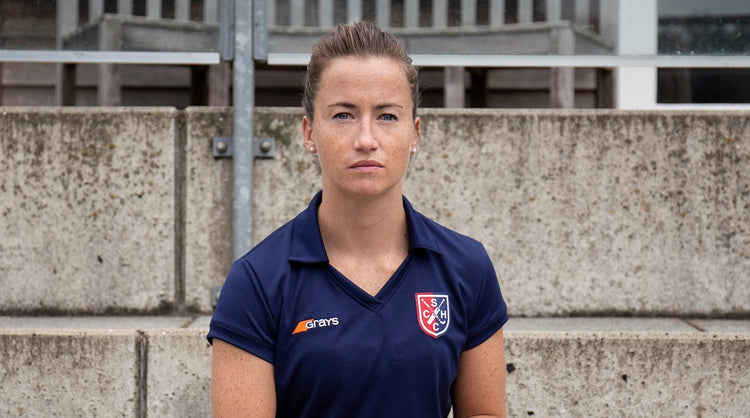 The life of a goalkeeper is unforgiving, it's life on the edge. One mistake and I'm the villain, one miraculous save and I'm the hero. I can be redundant for 59 minutes and then be called upon at the death, and it can be the difference between winning and losing.
Us goalkeepers are different, that's beyond dispute. And in the modern age, where each game is recorded, replayed and analysed in minute detail, we are relentlessly exposed to criticism, even ridicule, on an impossible quest for perfection. It's a position that requires steely mental toughness, it's much more than just stopping shots and throughout my 19 year career, I have had to build the mental resolve to deal with the highs and lows of the number one role. Some cannot deal with the stress and fail, others develop their own eccentricities to get by, but that does not stop insecurities eating away. There is no hiding behind the mask!
The best keepers play on an edge and that's the difference between the good and the great! I enjoy carrying the responsibility of the team's final result on my shoulders and it's this pressure that I thrive on. The match winning save is like no other. That feeling is rare, but it's intoxicating and that's why I work so hard!
But how did I find myself in this unique position?
To this day I vividly remember the conversation I had with the Hazelgrove School rounders coach in the summer of 2001 and her asking me if I fancied having a go in goal for the hockey team? She believed I suited the role of a hockey goalkeeper perfectly. I didn't know what she meant by that comment at the time, but on reflection it was probably due to my slightly 'nutty' personality. Having spent a good number of years playing football in a forward role, I initially thought, 'I normally prefer scoring the goals, not stopping them', but the team needed a GK and therefore I agreed to give it a go.
My journey to the top has by no means been easy. Between the ages of 13 to 18 I was hardly ever selected and I was continuously told I was too small, too dynamic and that I basically just needed to stay in my goal. I was different yes, I wasn't your stereotypical keeper who didn't like to run, who didn't really like to be there at all. Instead I was active, athletic and dynamic. Thankfully I believed in myself and my abilities. I didn't let them disillusion me and continued to train hard to try prove them wrong. Through years of hard work, grit and pure determination the opportunity finally came when a national team selector spotted me playing and saw something in my game that they really liked. That same year I was selected for the U18 West of England squad and then a combination of good performances and a bit of luck meant I also earned my first junior England Cap.
If from that moment you were to think that my career continued on this upward trend, you would be very much mistaken. It's been a rollercoaster ride. Selected, not selected, dropped, picked up again and in 2009 I found myself dealing with yet another set-back. I was 6 weeks out from selection for the England U21 squad for the Junior World cup in Boston and I hit a serious run of bad form that cost me dearly. This tournament is the pinnacle on any junior international hockey player's career and I felt to stand a chance of being invited to the seniors I needed to be the number 1. We were in Germany for some training games and I played really poorly, which resulted in a phone call just 2 days after returning, informing me that I had been dropped from the team and wouldn't be flying out to Spain for the final preparation camp. The coach said he wasn't happy with how I was playing and now wanted to look at another keeper. I was devastated. To this day the emotions I felt when I got this news still haunts me. At the time I quite simply just could not get my head around how a couple of poor performances could have such a devastating effect. Conversely, I have since gone on to learn that this is just the harsh reality of elite sport.
The toughest part to this set back was the fact that it came at the worst possible time. It was my last year in the junior age groups and as a result I left the youth set-up and wasn't invited to join the senior squad. I found myself in what some of us call, 'the grey area'. The point where you are too old to play for the U21's, yet you haven't been asked to join the senior squad so it's a hugely challenging situation for any athlete to be in. Some people never end up in this position, however many never get out of it! This period of my life was a gloomy one; I believed I had failed, unaware that I would go on achieve so much more.
You can't always be in control of the decisions that affect you, but you can control how you respond and despite having no idea how long it would be until I got a senior trial, or if I would ever get one I knew that if I was going to keep my dream alive I needed to get myself noticed again. During this time, I was playing my club hockey for Loughborough University ladies but I knew that the GB head coach regularly watched the premier league, so in order to be seen by him, I needed to be playing for a team at the top level. I therefore went on to sign for Leicester, who at the time were one of the best teams in the country, packed full of stars. I had a great start to the season and people were talking so within 5 months I got a call inviting me down to Bisham Abbey to trial for the senior squad. I was under assessment for about 6 months, during which I earn't my first GB senior debut and then finally all the hard work paid off when in the summer of 2010 I was offered a full time contract with the 31 strong, senior GB squad and I have been a fully contracted athlete ever since.